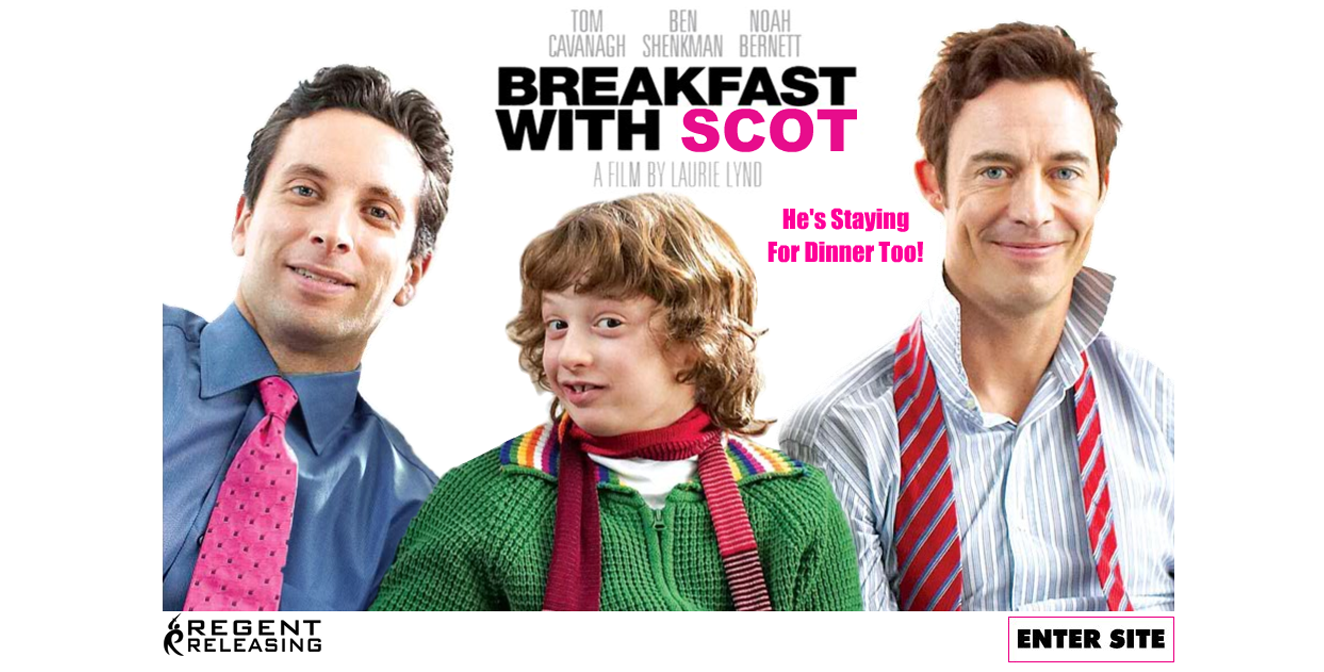 WEBSITE: Breakfast with Scot  ART DIRECTOR: John Beal  TRAILER DIRECTOR: Greg McClatchy
Adapted from the novel by Michael Downing, BREAKFAST WITH SCOT is a touching comedy that tells the story of a very 'straight' gay couple.
Eric (Tom Cavanagh of the hit series "ED," "Scrubs," "Eli Stone") lives for all things hockey. Now in his thirties, he's managed to turn his stint as an ex- Toronto Maple Leaf into a full-time gig as commentator for sports TV. He's living the dream! But when Eric's boyfriend Sam (Ben Shenkman of "Angels in America" "Law & Order," "Canterbury's Law") announces that they're to become temporary guardians of a young boy, Eric's comfortable world shatters. Enter Scot (Noah Bernett, "Prom Wars," "Girl's Best Friend," "Last Exit, "Gothika") — a recently orphaned, swishy 11-year-old sissy-of-a-boy — and Eric's mirror opposite. Freaked out by Scot's 'joie de vivre,' Eric and Sam gently nudge Scot away from scented hand cream and all things pink, towards a more 'acceptable' pastime – hockey. But after Scot's disastrous first game, Eric begins to rethink the compromises he's made in his own life in order to be 'accepted.'
Officially sanctioned by the NHL and the Toronto Maple Leafs, BREAKFAST WITH SCOT represents the first time a professional sports league has allowed their logo and uniforms to be used in a gay-themed movie.